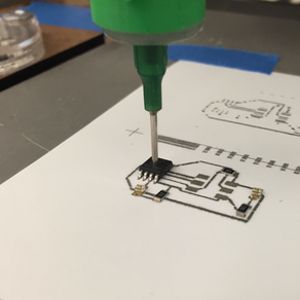 Pick and Place Components with Squink
With Squink's Pick-and-Place toolhead, there is no end to what you can create. Custom-shaped LED arrays? Flexible Arduinos? Hyper-light Drones? If you can think it, you can make it. Before Squink, assembling these sorts of complex and compact electronic designs required infinite patience, careful hands and a magnifying glass. Now the solution is simple - design and drag-and-drop your "Centroid and Rotation" file into our web-based software, place your components in the tray and let Squink pick-and-place every part in the right spot. With a little imagination and a Squink at your workbench, placing a SMT components doesn't seem like such a chore anymore!

Our Pick and Place features on-board computer vision. It corrects offsets and rotation errors before placing every component. Squink gets your circuits built reliably!
Technical Specifications
Speed: 4 parts per minute
Number of Tray Slots: 4 oversized Slots, 12 Slots for parts 2512 (6.3 x 3.2 mm) or smaller
Max Part size: SOIC-24 (10 x 16 mm, or 419 x 614 mils)
Precision: 15 ±5 microns